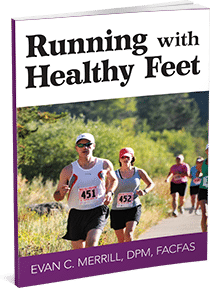 As a runner, you put your feet through a lot of pounding, making you prone to many foot problems— but not to worry! Southern Oregon Foot & Ankle, LLC is here to help by offering a free book filled with pages of advice, tips, and the essential information to keep your feet healthy and strong for miles.
Whether you're a recreational jogger or an ultra-marathoner, Running With Healthy Feet offers a host of helpful hints to stay on course and off the couch. This book is a must-have for runners of all levels, from symptoms, treatments, and prevention tips to training recommendations and expert advice.
An avid runner himself, Dr. Evan Merrill is happy to provide this helpful book free of charge. So, runners rejoice! Now you can receive a free copy of Running With Healthy Feet and learn how to train without injury or pain. Don't miss out on owning this valuable resource. Simply fill out the contact form below to receive a downloadable copy. You can also call us at (541) 776-3338 or visit our Southern Oregon Foot & Ankle, LLC office located in Medford, OR.
Run healthy. Run happy. Get your free book today!